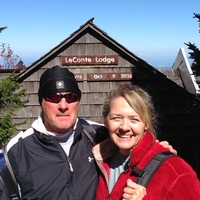 Tammy Wilkerson
Teacher
Hello. My name is Tammy Wilkerson and this is my third year teaching at Holy Family Catholic School but my 32nd year of teaching. I received a Bachelor of Science from the University of Mississippi in Business Education and a Master's of Science in Educational Theory and Practice from Arkansas State University.
My husband and I have been married 35 years, have 3 children, 2 grandchildren, and 3 granddogs. We enjoy traveling, hiking, and attending Ole Miss Rebel sporting events.
In computer class this year, younger students will be working on identifying the location of the keys on the keyboard as well as obtaining reinforcement in content areas through educational programs. Older students will be learning touch typing, computer vocabulary, and digital responsibility. Eight graders will be earning a Carnegie unit towards graduation through the Technology Foundations curriculum.
I try to impress upon my students, friends, etc. the value of spending time outdoors. It's something I taught my own children as they were growing up. The benefits of getting away from electronics for young people, especially teenagers, is so beneficial in establishing their self-worth.
Email: twilkerson@shsm.org or tammy.wilkerson@hfamilyschool.org